Drought tolerant landscaping in San Diego County is on every property owner's mind. The team at Desert Theater Cactus Nursery understands and has an amazing amount of options for you. Cacti, succulents and euphorbia are resilient due to two factors: Having adaptation to it's native climate and their large shallow root system that will pick up every little drop of moisture that touches the ground. Whether it be a morning fog, blowing clouds on a mountain top, or a two minute desert rain, cacti are native to our area and have adapted to that desert like climate absorbing each and every element. California, Arizona, Nevada, and Texas are ideal for drought tolerant plants.

A drought tolerant landscape will be a great fire retardant and also save you money on water and upkeep. It is also a responsible way to do your part in water conservation. Conserving water is a major concern in Southern California and surrounding states. Desert Theater Cactus Nursery has the perfect solution for you; protect your property from fire, conserve water and grow exotic, dramatic plants on your property. We at Desert Theater think it's a beautiful concept!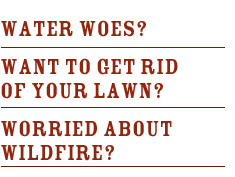 Desert Theater Nursery can
help you with all your needs.
Desert Theater Nursery
9655 Kiwi Meadow Lane
Escondido, CA 92026

Brandon Bullard
Owner
ph. 760.594.2330
Hours: By Appointment Only
Please Call First